Best of the Premier League season
As we approach the end and look back on another enthralling Premier League season, the top flight of English football has again delivered a campaign full of twists and turns. While Chelsea eventually cruised to the Premier League crown relatively easily, the Londoners were pushed by defending champions Manchester City and an improved-Arsenal side for much of the season before Jose Mourinho's men took control of the title during the final weeks. But if the race at the top of the table lacked the same sense of last-day drama as it has done in recent years, the battle at the bottom of the league will go down to the last game of the season as we wait to discover who will join Burnley and QPR in being relegated into the Championship.
So as we head towards the summer and a break in football, let's have a look at some of the best of the 2014/15 Premier League season. 
Best Goalkeepers
David de Gea (Manchester United): Manchester United's season might have been an up-and-down affair but their goalkeeper has consistently been at the top of his game from the start of the campaign. In a season in which the United defence has looked shaky from the very first game, De Gea has saved his team on countless occasions over the course of the year. The worry for United fans heading into the summer will be the nagging fear that Real Madrid will finally make a move for the man long tipped to replace the fading Iker Casillas, and we all know what happens when the Spanish giants set their targets on a player.
Thibaut Courtois (Chelsea): It might seem obvious to include the starting goalkeeper of the title-winning team but Courtois has shown just why Chelsea had very little hesitation in replacing long-time number-one Petr Cech with the Belgian youngster at the start of the season. We'd all heard of Courtois' exploits in Spain with Atletico Madrid during his three-season loan stay, and it's fair to say the 22-year-old has lived up to the hype since making his debut for Chelsea a full three years after signing for the Premier League side from Genk. With Chelsea already likely to be the team to beat next season, Mourinho will be hoping his young goalkeeper can build on his first campaign of Premier League football and come back even better. If you reckon Chelsea will be unstoppable next season, why not see if you can make some money with a bet or two on their potential.
Joe Hart (Manchester City): There were some who felt the arrival of Willy Caballero from Malaga last summer was a sign that City manager Manuel Pellegrini wasn't convinced Joe Hart was the man he felt should be the number one this season. Despite a wobble at the start of the campaign, the England shot-stopper has again been one of the most consistent keeper's in the Premier League this season. As well as keeping his number-one spot in the City side, Hart has also fought off competition for his place in the England side, and the 28-year-old doesn't look ready to give either job up any time soon.
Defenders
John Terry (Chelsea): Whether it has been his leadership qualities or his defensive ability, John Terry has once again showed just how important he still is to the club and the Chelsea skipper has been integral to this season's title success. At 34, Terry is definitely nearing the end of his career, but based on the evidence of his form throughout this year he could still have another couple of seasons left in him. With Kurt Zouma waiting in the wings, Chelsea have a player who could be the man to replace Terry when he finally does retire. But for the time being the Blues captain doesn't look ready to go anywhere after signing a new contract in March. 
Nathaniel Clyne (Southampton): It will have been bittersweet for Southampton fans to have watched as their talented young English full-back established himself as one of the best in the Premier League and a regular in the England squad. While Clyne's form has played a big part in the Saints' fantastic 2014/15 season, it has also led to a summer in which one of the club's best youngsters is inevitably sold to a bigger outfit. With Manchester United already rumoured to be close to signing the right-back to go with the left-back, Luke Shaw, they bought from Southampton last year, Saints fans know by now not to get too attached to their best players.  
Phil Jagielka (Everton): Not one of the Premier League's sexiest defenders, Jagielka has continued to go about his job with minimal fuss this season for an Everton team who have really needed their captain. After missing out on selection for the Premier League Team of the Year, Toffees manager Roberto Martinez claimed that he felt Jagielka was the most complete defender in the league. While the Spaniard could be forgiven for showing favouritism towards his skipper, it's certainly true that there aren't many weak areas in Jagielka's game, adding sensational injury-time Merseyside derby goals to his arsenal earlier in the season.
Midfield
Eden Hazard (Chelsea): After a tough start to life in the Premier League, it's safe to say Eden Hazard has got to grips with English football at this point. The PFA Player of the Year has been unplayable at times for Chelsea this season, and it is probably accurate to suggest winning the title might not have come quite as easily for the Londoners as it ended up being if Hazard hadn't been in the team. The attacking midfielder has been a thorn in almost every Premier League's side this season, setting up as many opportunities for his team-mates as he does for himself, scoring more than the majority of out-and-out strikers in the division.
Santi Cazorla (Arsenal): It's been another impressive season for the Arsenal playmaker and the Gunners have been thankful to Cazorla for what looks like a top-three finish for the first time since 2012. A virtual ever-present in this Arsenal side this season, Cazorla has been a consistent part of a midfield that has seen a host of different faces this season. Injuries to Jack Wilshere and Aaron Ramsey had threatened to derail Arsenal's season, but Cazorla's tireless work in the middle of the park ensured the Gunners stayed on course and now look set to improve on last season's fourth-place finish despite the absence of two key players.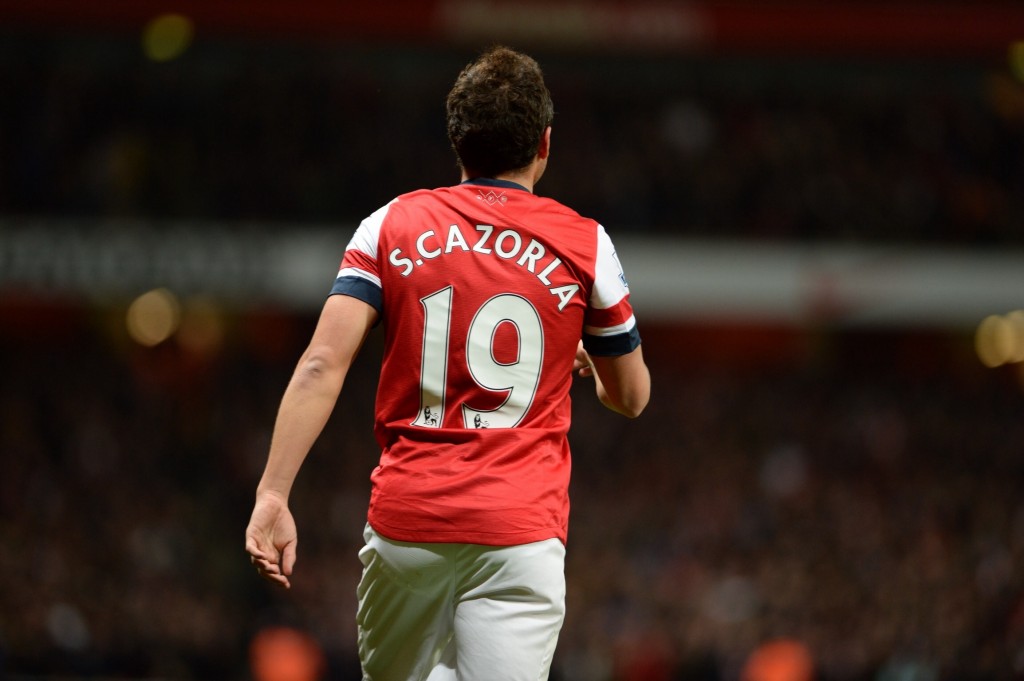 (cc) Santi Cazorla by joshjdss
Cesc Fabregas (Chelsea): One of Chelsea's most influential players this season, Fabregas hasn't wasted time in establishing himself as a firm fan favourite with the same supporters who used to boo him when he was wearing an Arsenal shirt. He might not have scored the goals some would have expected but the Spaniard has assisted in more than 20 goals in his first season with the club, and the Fabregas/Diego Costa combination has been instrumental to Chelsea winning their fourth Premier League title. But it hasn't just been Costa who has benefited from the midfielder's creativity, and Fabregas' stats tell a tale of just how well he has handled life back in the Premier League.
Fabian Delph (Aston Villa): For a large part of this campaign, the form of Fabian Delph had been the only thing Aston Villa fans had to cheer about. The arrival of Tim Sherwood as manager and subsequent drastic change in fortunes has ensured this season will end on a high, even if Villa fail to go on and win the FA Cup. The former Leeds youngster took a while to settle into life in Birmingham following his big-money move from Yorkshire, and it's taken until this season before Villa fans have really seen Delph at his best. After breaking into the England set-up at the start of the season, Delph impressed on his full debut against Switzerland, and it looks as though the midfielder is going to be a key part of Roy Hodgson's plans going forward.
Forwards
Diego Costa (Chelsea): Following his summer move to the Premier League from Atletico Madrid, Diego Costa made an explosive start to life in England, racing to the top of the scoring charts after a prolific first few months in a Chelsea shirt. As well as his goalscoring exploits, Costa arrived at Stamford Bridge with a history of injury problems, and the striker has already spent more time in the physio's room in his first season in the Premier League than he would have wanted. The fact the Brazilian-born Spain international looks set to end the season as the league's third highest goalscorer despite missing so much time with injury shows just how prolific the striker was when match-fit this year.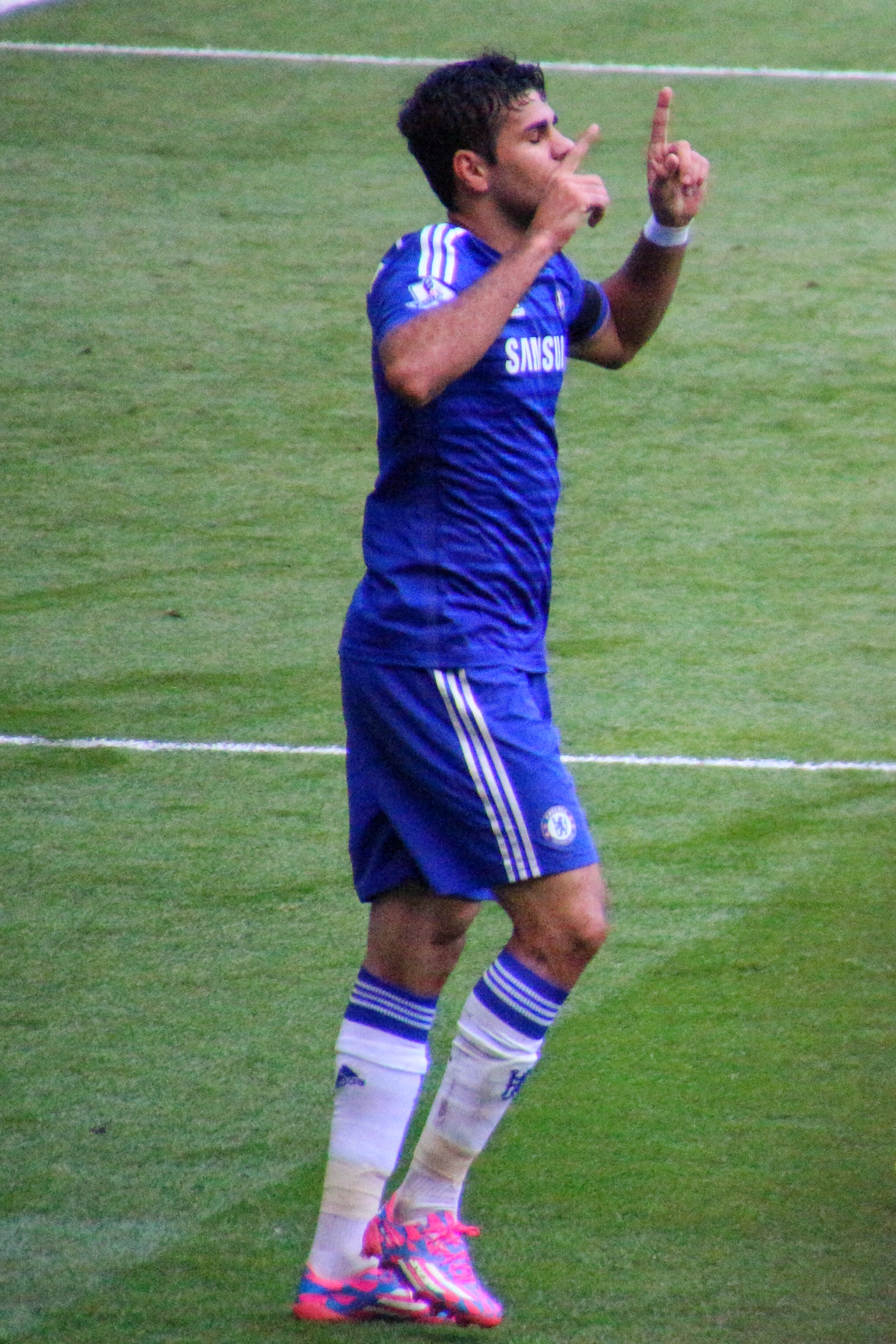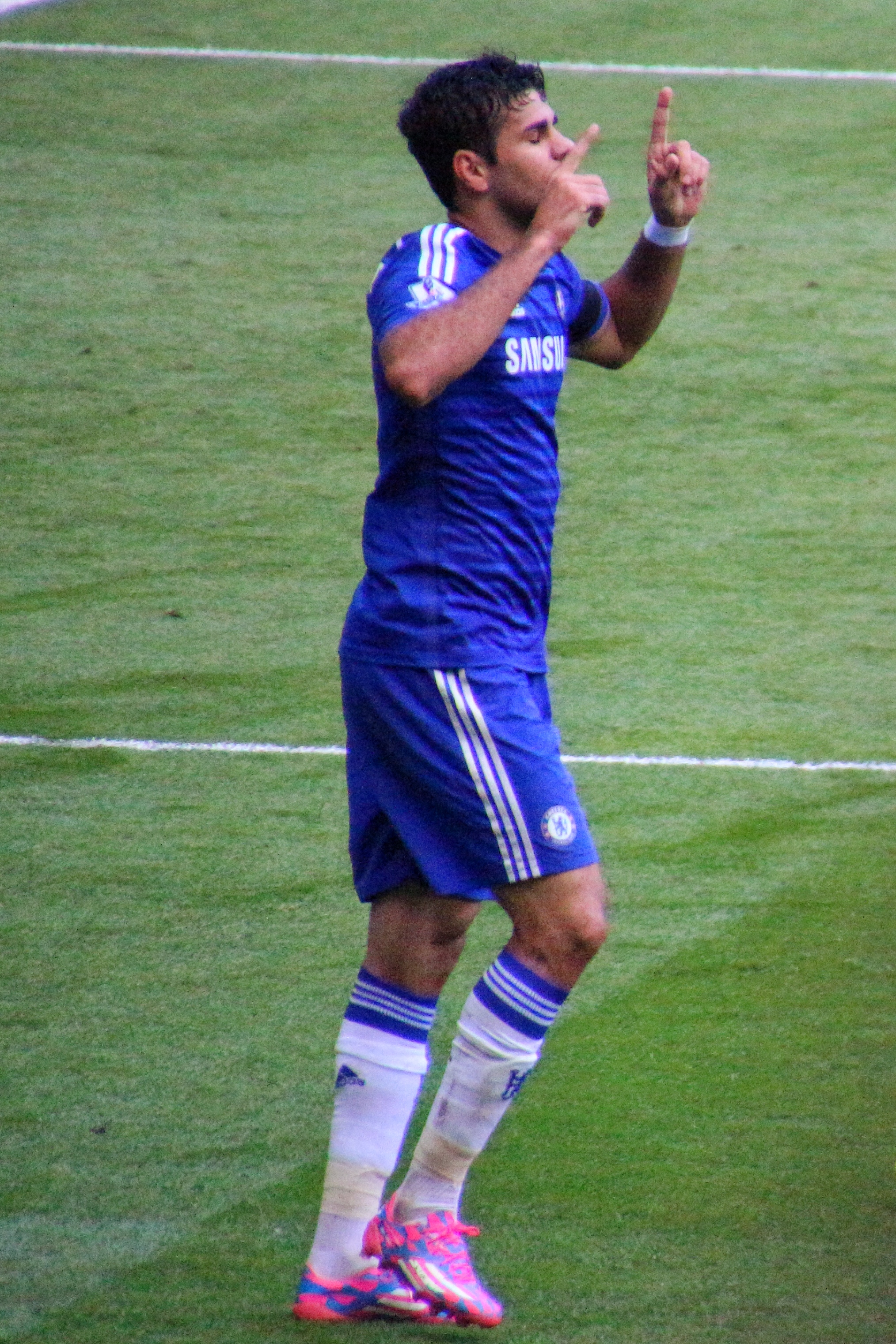 (cc) Diego Costa by cfcunofficial
Sergio Aguero (Manchester City): While this season hasn't gone to plan for Manchester City, Sergio Aguero has done everything he could to try and help the club retain the title. Not many thought the Argentinean could ever perform better than he did in his first season at the Etihad, which culminated in Aguero scoring the goal that won City the title, but the striker looks set to win his first Premier League Golden Boot after passing the 25-goal mark following his hat-trick in the 6-0 thumping of QPR to condemn the Londoners to relegation. Unfortunately for City fans, though, the rest of Manuel Pellegrini's squad have failed to perform anywhere near the level of Aguero for large parts of the season and it could be a busy summer at the Etihad. 
Harry Kane (Tottenham Hotspur): If we're talking about surprise packages this season, Harry Kane has to come near the top of that list. From being loaned around the Championship, to making the occasional Spurs appearance in the Europa League, it took until November before Kane really established himself in Mauricio Pochettino's first team. Since then, the striker's prolific form in front of goal has been one of the real storylines of the season. As well as making his England debut, Kane looks set to finish this campaign as the second top scorer in the Premier League, and the 21-year-old can now count himself as one of European football's hottest properties. Spurs fans will just be desperate that their new hero does not follow in the footsteps of Gareth Bale and look to move to a club that can guarantee Champions League football on a regular basis.  
Manager
Jose Mourinho (Chelsea): While this season might not have been classic Mourinho off the pitch, it certainly has been on the pitch. Chelsea have gone about their business with relative ease this season, and aside from the on-going feud with Arsene Wenger, Mourinho appears to have mellowed since his first spell at Stamford Bridge. But if his mood has changed, his style of winning football has not. It might not be the most exciting football but it certainly works, and for as long as Mourinho is in charge, Chelsea will feel confident of dominating English football. After guiding the club back to the Premier League title, Mourinho will now be looking to lead Chelsea to Champions League glory, something he failed to do during his first period as manager.
Nigel Pearson (Leicester City): For a man who was essentially sacked for a few hours just three months ago, it shows just how much of a turnaround Leicester have enjoyed during that time that Nigel Pearson is being talked about as a potential Manager of the Year. After looking all but relegated just a couple of months ago, Leicester have put together an incredible, not to mention timely, run of results in the final few weeks of the season and are now preparing for a second year of Premier League football. Whether it's scrapping with opposition team's players, accusing reporters of being ostriches or hurling expletives at fans, Pearson has made the headlines for a lot of reasons this season. Most importantly for Leicester, however, their colourful manager has fulfilled his brief of both achieving promotion to the Premier League and consolidating the club's place back in the top flight of English football.


Top photo credits: "Chelsea 2014/15" by CFC Unofficial (Debs). Licensed under CC BY-SA 2.0.